For years – it all started right after Henry Ford – accident lawyers have been listening to clients and their spouses say they should be entitled to compensation for loss of services even when the victim survives the accident. More Maryland accident lawyers are paying closer attention to this and including these damages in personal injury lawsuits.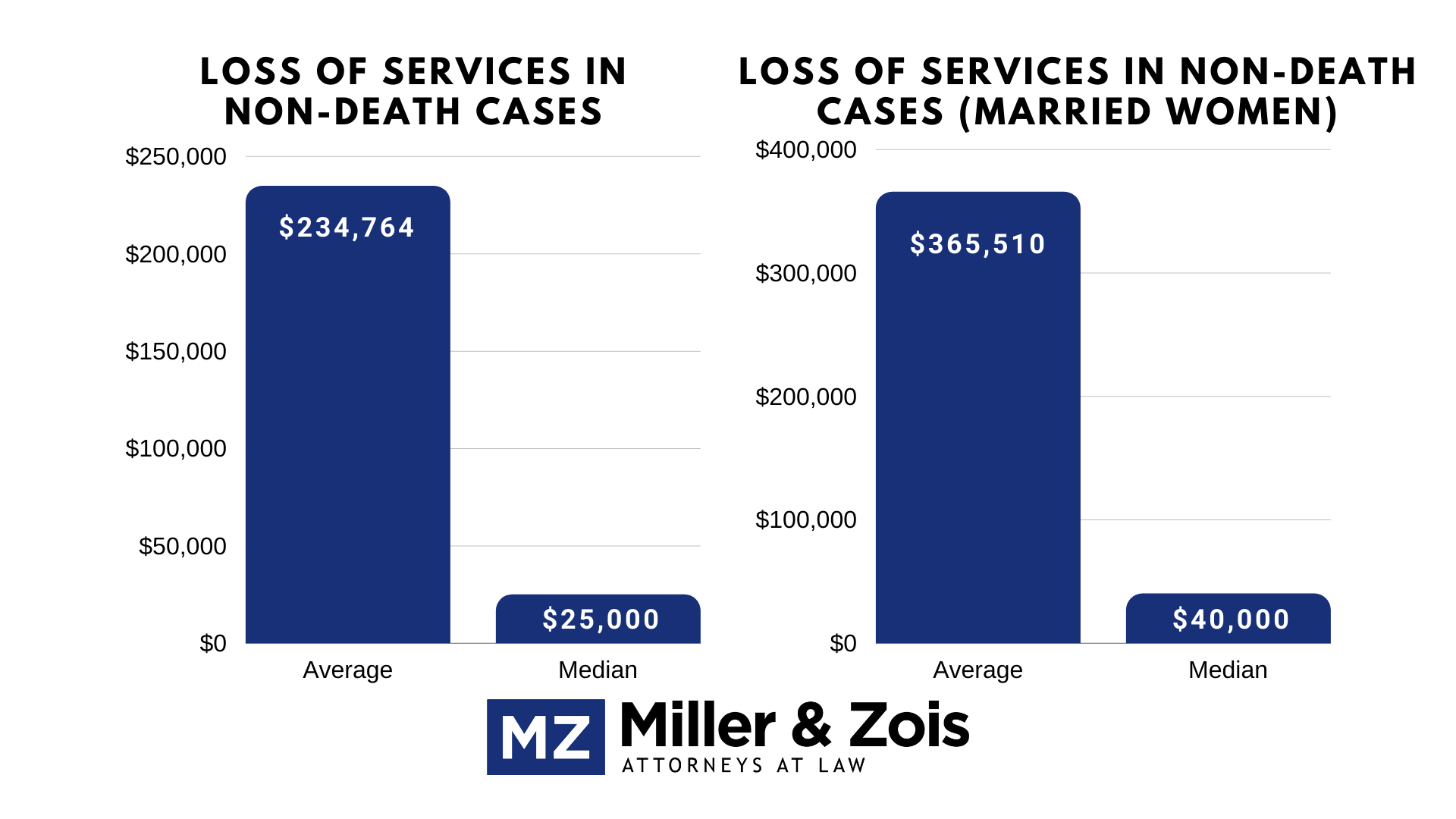 Jury Verdict Research put out a study based on verdicts rendered from February 1998 through February 2010 for loss of services damages in non-wrongful death cases. The overall median compensatory award for loss of services in non-death cases was $25,000. The average, however, was $234,764. Clearly, and this is interesting, juries are more receptive to these claims when the accident victim is a married woman. The median award was $40,000 for wives and the average was $365,510.
Verdicts and Settlements Involving Loss of Services
An 84-year-old woman tripped on a marble threshold in a grocery store. She suffered knee and humerus fractures. The woman underwent surgery to her fractured knee. She alleged that the grocery store's failure to maintain safe premises caused her injuries. The jury awarded a $1,002,411 verdict. This comprised $802,411 in pain and suffering and $200,000 in her husband's loss of services claim.
A man suffered permanent spinal injuries after a taxi struck his pickup truck. He alleged that the taxi driver's negligent driving caused his injuries. The man also made a vicarious liability claim against the taxi company. The defendants admitted liability but disputed the man's injuries' nature and extent. A jury awarded $2,840,765. This included $250,000 in his wife's loss of services claim.
A man alleged that the orthopedic surgeon's mismanaging of his cervical spine surgery caused his spinal stenosis, shoulder atrophy biceps atrophy, and mobility loss. He claimed he needed additional spinal surgery. The man alleged the orthopedic surgeon's failure to follow accepted medical practices caused his permanent injuries. A jury awarded a $2,107,966 verdict. This included $125,000 in his wife's loss of services claim.
A motorcyclist died after a pickup truck entered his travel path and struck him. The man's surviving relatives alleged that the pickup truck's driver's negligent driving caused his death. They also made a negligent entrustment claim against the pickup truck's owner. Following a bench trial, the deceased's wife and adult child received a $500,000 award. This only comprised their loss of services claims.
A woman tripped over a sidewalk crack while outside of the office building she worked at. She suffered fractures to her left ankle, left tibia, and her right foot. The woman underwent multiple surgeries for treatment. She claimed that the building's owners failed to keep the sidewalk in safe conditions and allowed the hazard to remain on the sidewalk. The woman alleged that their negligence caused her injuries. A jury found the defendants 70 percent negligent and the woman 30 percent negligent. They awarded a $1,200,000 verdict. This included $10,000 for her spouse's loss of services claim.
$1,200,000 – Verdict
2019 – Maryland (Baltimore City)
A 65-year-old man's surviving family alleged that the physician's failure to diagnose his aortic dissection caused his death. They claimed that the physician failed to order appropriate tests and improperly monitored his condition. His relatives argued that a cardiac specialist should have tested him because his medical history included anticoagulant therapy and a previous aortic valve replacement. They further argued that he would have survived had he underwent emergency heart surgery. The Baltimore City jury awarded his wife and two daughters a $1,750,000 verdict. This comprised $1,500,000 in loss of services and $250,000 in pain and suffering.
2019 – Maryland (Baltimore County)
A 50-something woman underwent a mammogram and an ultrasound. The radiologist interpreted its results as normal. A year later, the woman was diagnosed with breast cancer after undergoing a second mammogram. She underwent a right mastectomy, chemotherapy, and radiation. Her treatments failed to treat her condition. The woman died three years later. Her surviving family alleged that the radiologist's erroneous interpretation of her test results delayed her breast cancer diagnosis and caused it to metastasize. They argued that she would have survived if she was immediately diagnosed after her first mammogram. Her husband, her daughter, and her parents survived her. The Baltimore County jury awarded them a $2,582,529 verdict. This comprised $2,300,000 in loss of services and $282,529 in pain and suffering.
2019 – Maryland (Montgomery County)
A 60-something woman presented to a surgeon with symptoms to her back's left side. The surgeon had previously performed a laminectomy on her right side. Despite showing no right-side symptoms, the surgeon performed a laminectomy to both sides. During the procedure, the physician made a dural tear, causing cerebrospinal fluid leakage and permanent nerve damage. Following the procedure, she sustained a urinary tract infection, paraspinal hematoma, a bone infection, and disc inflammation. The woman underwent additional surgery and IV antibiotics to treat her post-surgical injuries. Her treatments were unsuccessful. She ultimately sustained heel paresthesia, right leg numbness, and the inability to bear weight. The woman was then transferred to a rehabilitation clinic, where her leg numbness worsened. She also sustained urinary retention. Because of her injuries, the woman now used a walker for short distances and a wheelchair for longer distances. She could no longer work as a nurse. The woman claimed that he unnecessarily performed on her right side, despite having shown no symptoms at the time. She alleged that this violated care standards and caused her permanent injuries. A Montgomery County jury awarded a $2,045,214 verdict. This comprised $84,149 in past medical expenses, $370,064 in future medical expenses, $586,001 in past wages, $800,000 in pain and suffering, and $205,000 in her husband's loss of services claim.