Our lawyers believe the AFFF lawsuits will reach a settlement in the near future.  No guarantees.  But that is our prediction.  We think many if not all defendants will offer reasonable AFF settlement amounts to firefighters in 2023.  This post is a look at where we are and gives an update below.  This post was last updated on May 16, 2023.
AFFF Lawsuit
Firefighting foam containing Aqueous Film-Forming Foam (AFFF) has been used for decades to extinguish fires involving fuels and other flammable liquids.  Our firefighting foam lawyers are continuing to investigate and pursue new lawsuits on behalf of firefighters who have been diagnosed with various forms of cancer, such as testicular cancer, kidney cancer, pancreatic cancer, prostate cancer, liver cancer, breast cancer, bladder cancer, lymphoma, leukemia or other injuries that have been linked to PFAS chemicals in AFFF.  The conventional wisdom is that AFFF class action lawsuits for firefighters may soon settle in whole or in part.
However, AFFF contains per- and polyfluoroalkyl substances (PFAS), which are persistent, bioaccumulative, and toxic chemicals that have contaminated soil and water in and around military bases, airports, industrial sites, and other locations where AFFF was used. The use of AFFF has led to a wave of lawsuits against chemical manufacturers and government agencies, as well as private companies and municipalities.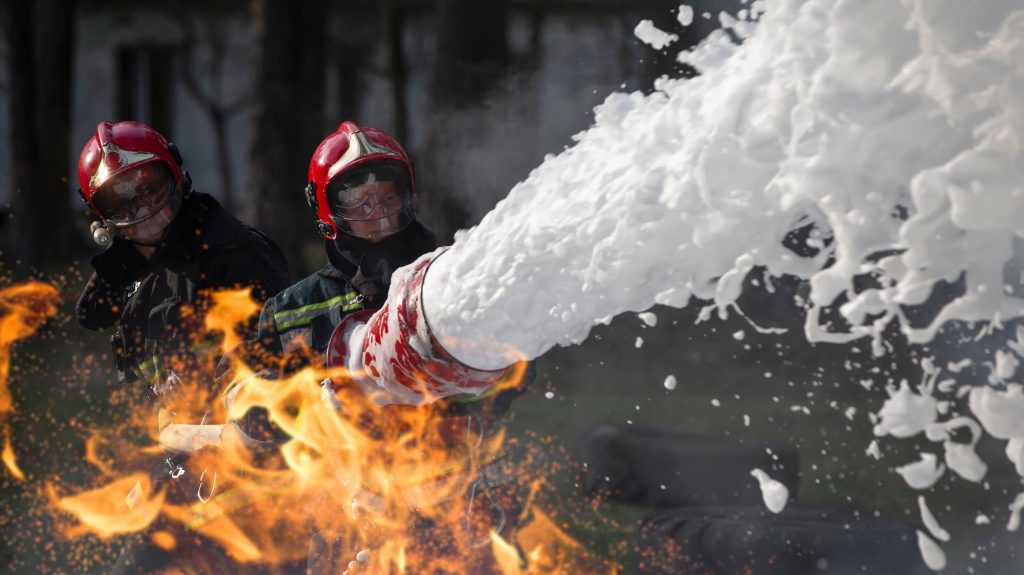 What is AFFF?
AFFF is a type of firefighting foam used to suppress fires involving flammable liquids such as gasoline, diesel fuel, jet fuel, and other petroleum-based products. AFFF contains PFAS, a family of chemicals that are persistent, meaning they do not break down easily in the environment, and bioaccumulative, meaning they build up in the bodies of living organisms over time.
Firefighting foams containing these toxic chemicals were developed as early as the 1930s to combat petroleum-based fires that traditional water suppression alone would be ineffective against. Over the decades, AFFF has been widely used by military and civilian firefighters to extinguish Class B fires.
PFAS are also toxic and have been linked to a range of health problems, including cancer, thyroid disease, and developmental problems in infants and children. There are over 4,700 PFAS chemicals, but the two most commonly found in AFFF are perfluorooctanoic acid (PFOA) and perfluorooctanesulfonic acid (PFOS).
Firefighters with Cancer from AFFF
PFAS chemicals found in AFFF are known to be highly durable and can remain in the body for years, which can lead to various health issues, including different types of cancer, ulcerative colitis, and thyroid disease. The following cancers have been found in firefighters with a great deal of exposure to AFFF chemicals:
Bladder cancer
Breast cancer
Colorectal cancer (colon and/or rectal cancer)
Kidney cancer (renal)
Leukemia
Liver cancer
Lymphoma
Ovarian cancer
Pancreatic cancer
Prostate cancer
Testicular cancer
Thyroid cancer and disease
Uterine or endometrial cancer
It is important to note that these are not the only health conditions associated with PFAS exposure and we really many not know for years how many diseases are caused by forever chemicals.  But these are the ones that we know about.
PFAS contamination from AFFF
AFFF has been used for decades at military bases, airports, industrial sites, and other locations where flammable liquids are present. The use of AFFF has resulted in widespread contamination of groundwater and soil with PFAS. The contamination has been detected at military bases across the country, including the Marine Corps Base Camp Lejeune in North Carolina, as well as in many other communities.
The contamination has led to a range of health problems, environmental damage, and economic losses. The chemicals are highly persistent and do not break down easily in the environment, so they can remain in the soil and water for decades or even centuries.
Lawsuits against AFFF manufacturers
As of March 2023, there are over 4,000 lawsuits filed in the federal court system relating to AFFF, or aqueous film-forming foam, which is used by firefighters to extinguish fires involving flammable liquids. The lawsuits include claims by firefighters who have developed cancer and claims of water contamination. The litigation is so big a multidistrict litigation (MDL) class action lawsuit has been formed in federal court in South Carolina, where U.S. District Judge Richard M. Gergel is overseeing pretrial proceedings.
There are two groups in the AFFF class action lawsuit.  One group is firefighters themselves. The second group is the general public when AFFF enters the environment, community, or water supply. So, a bit bizarrely, this class action lawsuit are an odd mix of firefighter cancer claims and communities suing over the drinking water contamination.
Efforts to dismiss these lawsuits have failed and bellwether trials are expected to begin in June 2023, in which certain evidence and testimony will be presented to gauge how juries are likely to respond to the allegations made in these cases. This will help in determining the strength of the plaintiffs' cases and may influence settlement negotiations.  There is an expectation that some defendants – specifically excluding 3M is the speculation – may offer settlement amounts to victims before that June trial.
Who Are the AFFF Defendants?
Here are some of the AFFF defendants and how much money these defendants are making every year:
3M – $33.9 billion
Corteva, Inc. – $14.5 billion
Dupont – $12.1 billion
Arkema Inc. – $9.5 billion
The Chemours Company – $6.1 billion
AGC Chemicals Americas – $1.8 billion
Clariant Corporation – $1.7 billion
Kidde-Fenwal – $1.6 billion
Chubb National Foam, Inc. – $1.3 billion
UTC Fire & Security Americas Corporation, Inc. – $1.2 billion
Tyco – revenue not available (part of Johnson Controls)
BASF Corporation – revenue not available but estimated at $92 billion (part of BASF SE)
Dynax Corporation – revenue not available (private company)
ChemDesign Products, Inc. – revenue not available (private company)
Carrier Global Corporation – revenue not available (part of Carrier Global)
New May 2023 AFFF Study
The National Institute of Standards and Technology (NIST) recently completed a study examining the presence of per- and polyfluoroalkyl substances (PFAS) in firefighters' gear. PFAS are man-made chemicals used in various products such as firefighting foam, food packaging, and non-stick cookware. They are recognized for their water and stain-resistant characteristics but are also known to persist in the environment and accumulate in the human body.
NIST's study analyzed 20 distinct textiles utilized in the production of firefighter turnout gear – protective clothing worn by firefighters to shield themselves from heat, flames, and smoke. The investigation revealed that all 20 textiles contained PFAS, with the highest concentrations found in the gear's outer layers. The study also discovered that the types and concentrations of PFAS differed based on the textile type.
The results of the NIST study are alarming, as PFAS have been connected to various health issues, including cancer, thyroid disease, and reproductive problems. The findings indicate that firefighters might face an increased risk of these health problems due to PFAS exposure through their gear.
The NIST study represents a critical step in comprehending the dangers of PFAS exposure to firefighters.  Of course, it is tragically too late for many but the these findings will contribute to the creation of safer firefighter gear and safeguard the well-being of firefighters and their families.
Other studies have also detected high levels of PFAS in firefighters' gear, raising concerns about the potential health risks associated with PFAS exposure. Consequently, several firefighters' unions and organizations have called for a ban on using PFAS in firefighter gear, arguing that the exposure risks outweigh the water and stain-resistant benefits of PFAS.
The issue of PFAS use in firefighter gear is complex and lacks straightforward solutions. Nevertheless, the NIST study and similar research have highlighted significant concerns regarding the potential health risks of PFAS exposure to firefighters. These concerns warrant serious consideration, and additional research is necessary to determine the long-term health effects of PFAS exposure on firefighters.
May 2023 Update
With nearly 4,500 lawsuits concerning aqueous film-forming foam (AFFF) awaiting trial in the federal court system, and the first bellwether trial related to claims brought by a local water provider set to commence in early June, the U.S. District Judge managing the litigation has instructed the involved parties to identify a second bellwether pool. This pool will focus on injury claims asserting that the toxic firefighting foam contaminated drinking water in certain areas. On May 5, a court order mandated the selection of 28 personal injury claims for the second bellwether pool from plaintiffs who argue they were exposed to AFFF through contaminated drinking water, as opposed to direct contact.
The cases will comprise eight claims each of kidney cancer, testicular cancer, and thyroid disease, along with four claims of ulcerative colitis. Furthermore, they will be restricted to individuals alleging exposure to polluted water in the vicinity of Peterson Air Force Base, Colorado Springs Municipal Airport, Willow Grove Naval Air Station Joint Reserve Base, and the Naval Air Warfare Center in Warminister.
According to the order, the parties must select the cases by July 28 and present a joint list of selected or proposed cases to the court by August 11. Ahead of a case management conference planned for next month, the court demands that the parties submit a draft case management order concerning the bellwether selections.
Should You File an AFFF Lawsuit If You Are a Victim?
The decision to file a lawsuit is a personal decision.  The manufacturers of firefighting foams containing PFAS chemicals are being sued. because many believe that some companies were aware of the health hazards associated with their firefighting foams for a long time, but failed to take adequate steps to protect the firefighters that were protecting us.
As a consequence, individuals are now able to pursue legal recourse against these companies, seeking redress and financial compensation for the harm caused by prolonged exposure to these chemicals. We are lawyers who sue companies who harm people. So of course we think you should file an AFFF lawsuit.  But that decision is yours and yours alone.