I frequently get an email that is some version of this one on the diminished value of cars after a crash:
Hello Professor Miller,
It's [name withheld], and I took Sports Law from you (really learned a lot by the way). Anyway, the reason, for my [voicemail], and why I'm writing is because I have a friend who has a problem. He purchased what I believed was an SUV, brand new in 2006. A few months ago it was stolen and vandalized. The police were eventually able to recover it, but it was totaled. According to my friend the blue book values the car at a certain amount, but the insurance company is not willing to pay him anything near the blue book value of the car. The more time passes the more the value decreases. My friend would like to recover the fair value of his vehicle and would like to know what his recovery rights are. I am sure you are incredibly busy, but my friend also wanted me to refer him to someone I trusted and was an expert in insurance law.
If time is an issue, do you perhaps have someone whom you might recommend?
My friend's name is: [name and number withheld]
Thanks!
The reality is that most lawyers – including me – will not handle property damage or total loss diminished value cases. We do, however, offer on our Miller and Zois website tips for people handling property damage claims without a lawyer.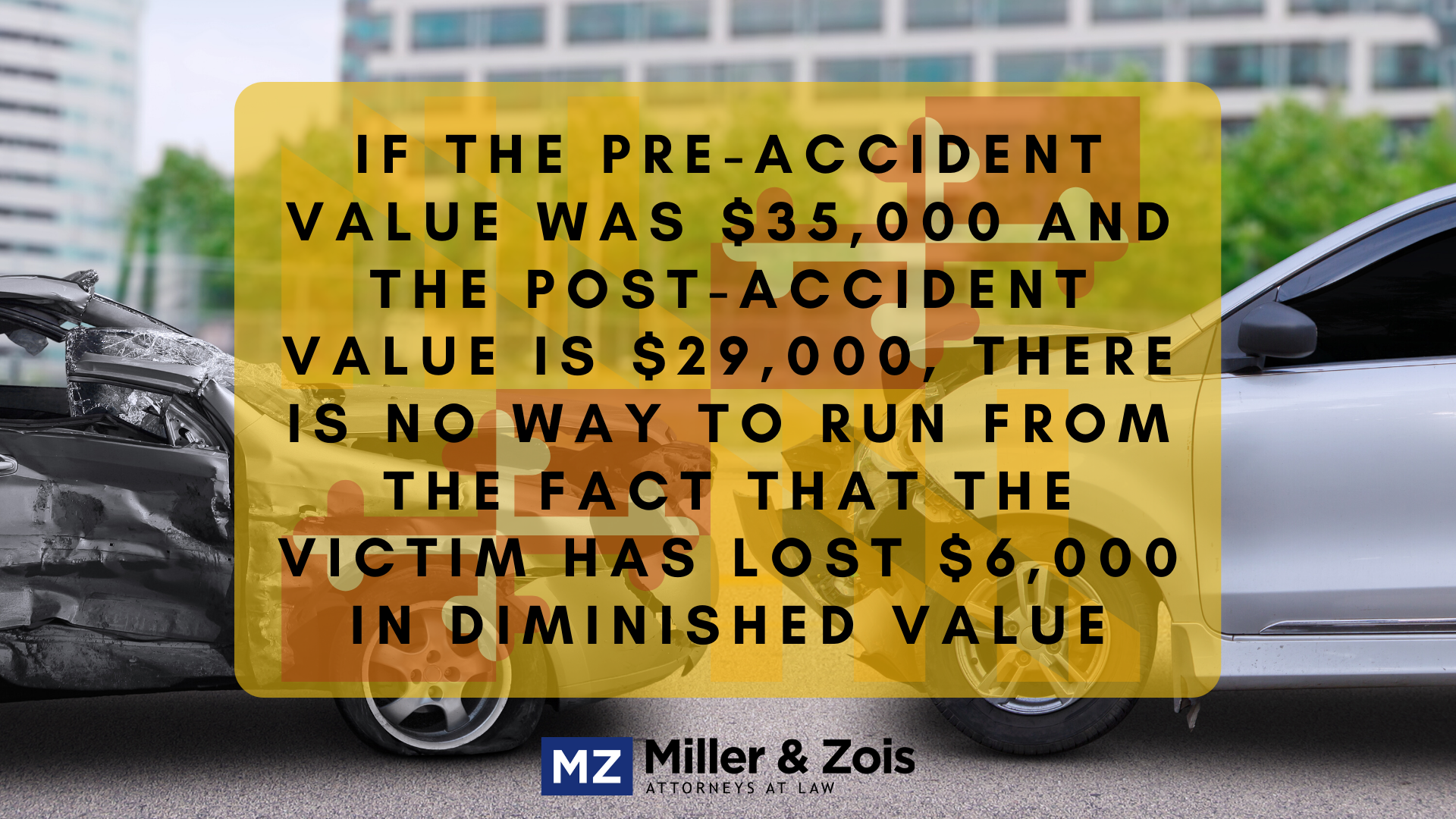 The nutshell with these cases is that the insurance companies pretend that repairing the car confines their exposure to the cost of those repairs and not the diminished value of the vehicle. But this is not true.  The diminished value of your car is the difference between its pre-loss value and its new value after having been fully and properly repaired.
How Do You Get Kelley's Blue Book into Evidence at Trial?
Kelley's Blue Book is hearsay. But Maryland Rule 803(b)(17) has an exception for "market quotations, tabulations, lists, directories, and other published compilations, generally used and reasonably relied upon by the public or by persons in particular occupations."  You may not need this rule if lawyers are not involved on both sides and the amount of damages sought is less than $5,000.
Diminished Value Case Law
If you want a car accident lawyer in Maryland to help you sort through this, give us a call.