Can you vacate a divorce and have your husband's new marriage annulled? You almost can, as the plaintiff found out in Peete v. Peete, decided by the Maryland Appellate Court in March 2023.
Facts of Peete v. Peete
Bessie was married to a man named Author in 1971. She separated from him in 1975. In 1991, Author filed for divorce from Bessie in the Superior Court for the District of Columbia, and Bessie did not file an answer nor appear at the divorce hearing. As a result, the court granted Author a default judgment of absolute divorce. Author later married a woman appropriately named "Maryland." The two remained married until Author died in 2007. Upon Author's death, Maryland was appointed executor of his estate.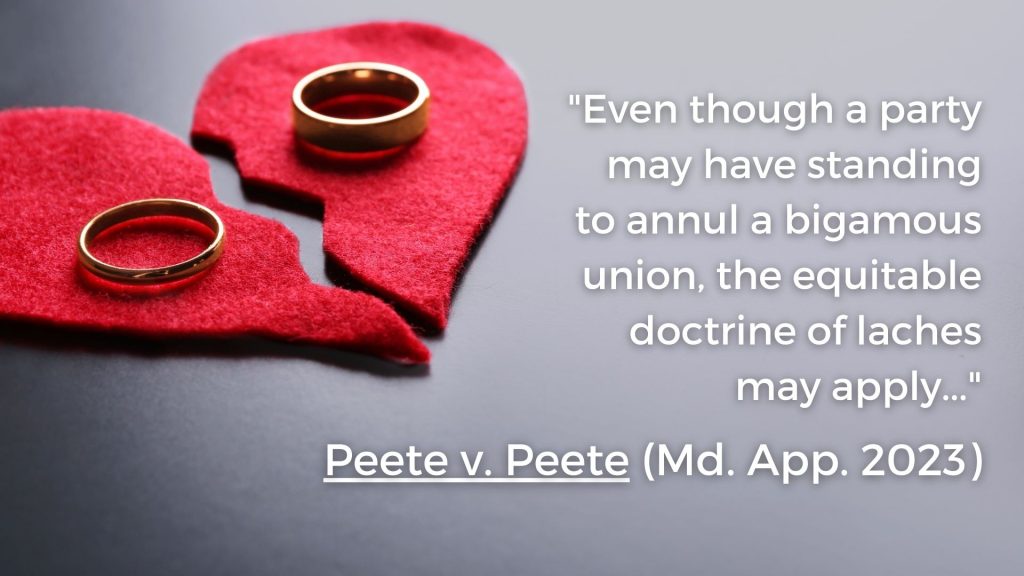 In 2011, Bessie filed a motion in the Superior Court for the District of Columbia to vacate the divorce judgment on the grounds of improper and ineffective service of process. Bessie claimed she had not received the divorce complaint and believed she was still married to Author. A hearing was held in 2012, during which the court found that service of process was defective and the divorce judgment was void. As a result, the court vacated the divorce decree.
Nearly nine years later, in 2020, Bessie filed a complaint in the Circuit Court for Prince George's County seeking to annul the marriage between Author and Maryland on the grounds of bigamy, as Bessie claimed that Author was still legally married to her when he married Maryland.
What is the point of all of this? Money. Bessie admitted that her purpose in filing the complaint was to obtain a share of Author's pension. However, the circuit court ruled that Bessie did not have standing to annul the marriage between Author and Maryland as the marriage was voidable, not void, and Bessie was not a party to the marriage.
Bessie appealed the circuit court's decision, arguing that she had standing to annul the marriage and that the circuit court had erred in suggesting that the delay between the 1991 divorce judgment and her 2020 complaint would bar her annulment action.
The Maryland Appellate court held, surprisingly maybe, that Bessie had standing to bring a complaint for annulment. But the legal doctrine of laches bars her lawsuit.
Standing to Annul the Marriage
Maryland statutory law is unclear on whether a bigamous marriage is voidable instead of void. Maryland's appellate authority (as well as case law from our sister jurisdictions) is apparent that a bigamous marriage is void, not voidable. But the Maryland Appellate Court found that Morris v. Goodwin is on all four with this case.
In Morris,  the court recognized that in determining whether a marriage is void or voidable, we look to "whether, with proper consent, the parties could have established a valid marriage. If not, the marriage is considered void." Bigamous and incestuous marriages are void marriages because they are invalid regardless of the parties' consent. Conversely, a marriage procured by duress or exertion of undue influence is voidable because the defect in the marriage goes to a party's consent.
Here, in 2012, the D.C. Superior Court ruled that Author's 1991 judgment of divorce was void. As a result, the court vacated the divorce decree, creating a bigamous marriage between Author and Maryland. A bigamous marriage is void because there is no way to "fix it." Therefore, Bessie has standing in this unique situation to annul the bigamous marriage because that marriage directly affected her marriage to Author.
Laches Undoes Bessie's Victory
Bessie contended that the circuit court erred in considering the effect the 21-year delay had on her motion to annul Author's second marriage. She contended that the doctrines of laches or equitable estoppel do not apply. However, the court found that laches or equitable estoppel are applicable under the unique circumstances presented.
Maryland case law provides limited guidance on applying equity in the context of a bigamous marriage. Bessie cites no case law to support her argument, nor does she provide any reasoning or argument to explain it.
The court pointed out, cases from other jurisdictions that are on all fours with this case. Other courts have applied estoppel or laches to bar a suit when a first wife sought to invalidate a second marriage years after the husband's death to reap a financial windfall. The reasonableness of the delay and whether the delay prejudiced the opposing party must be considered in making a laches determination. The record is unclear on when Bessie learned that Author had remarried. But by her own account, she waited at least 13 years after Author's death before asserting any interest in his estate in 2020.
That 13 years and Bessie's motivation were her undoings in this case. The court decided that the long delay in Bessie's attempt to annul her late husband's second marriage means her case is barred by laches. This is because Bessie's motivation for the annulment was financial gain rather than a desire to protect the sanctity of marriage. The court has applied laches in similar circumstances and believes that not doing so in this case would be unfair.
So the case was remanded back to the trial court? Nah. The court has decided not to remand the case for further proceedings. Because the record clearly shows that Bessie waited 13 years after her husband's death before taking action, which the court believes is unreasonable and unfairly prejudices Maryland and her late husband's second wife. Therefore, the court has ruled that Bessie's attempt to annul the marriage is barred by laches.